San Diego Snorkeling: Where To Go & What To See
Swim with seals. Visit the caves. Experience the sharks
Snorkeling in San Diego is fantastic but quite different than most places in the world. Most local spots are easily accessible from the shore. Almost all snorkeling sites are scattered throughout the protected marine sanctuary right off the coast of La Jolla.
7 Great Spots to Snorkel in San Diego
Adventure seekers can choose to snorkel with sea lions and explore the sea caves. Or maybe, if you're brave, swim with the leopard sharks. How about navigating through a giant kelp forest. Below we outline the 7 best spots to snorkel and what you can expect to see in each location.
#7 Boomers' Kelp Beds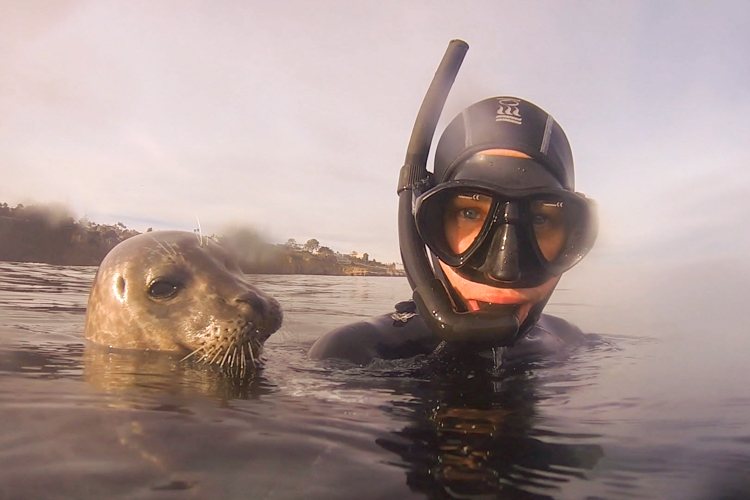 Just southwest of the La Jolla Cove is the cliffs overlooking an area known as the Boomers' kelp beds. About 100 meters offshore the thick kelp grows along jagged underwater walls. This is a great place to spot the baby harbor seals. Just below the surface look for hundreds of small, silver top smelt and sardines. Gray whales, migrating between Canada and Mexico, are often spotted to the west of Boomers.
#6 La Jolla Shores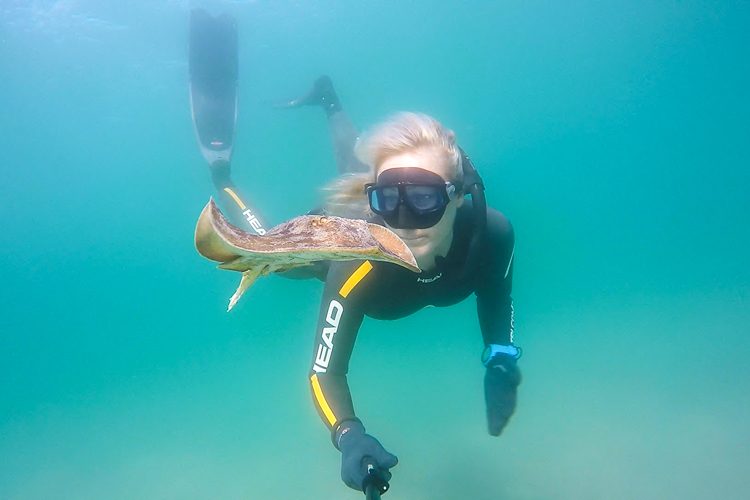 Just south of Scripps Pier is Kellogg Park and La Jolla Shores Beach. The best snorkeling is about 30 meters out from this beach. The sandy ocean floor is a great place to see small stingrays as well as black bat rays. Be careful where you step. If you head to the west you will cross the sand dollar beds with thousands of sand dollars. It's also common to see sand crabs, hermit crabs and sea snails hiding in this area.
#5 Marine Room Beach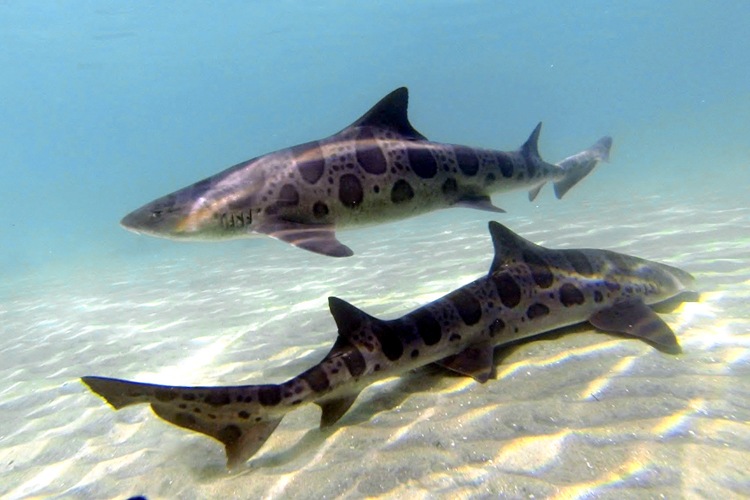 The Marine Room beach sits on the eastern edge of the La Jolla Ecological Reserve just south of La Jolla Shores. Here, just feet from the shore, you can find hundreds of beautiful leopard sharks. It's also common to see the flat guitarfish laying along this sandy bottom. As you snorkel south along the seawall, the sandy bottom will turn into seagrass covered rock. Here, hiding below the rocky reef, are hundreds of red California spiny lobster. Careful, moray eels also love these rocky formations.
#4 Devil's Slide Reef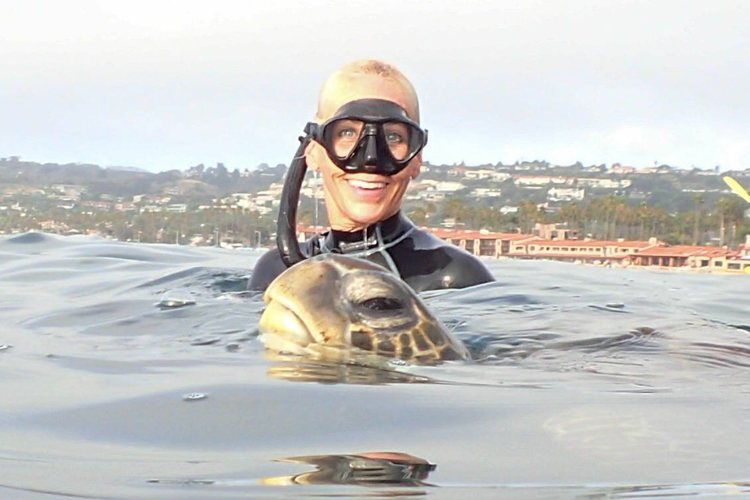 Devil's Slide is in the far corner of La Jolla's protected Marine area. This area, situated at the base of the sea cliffs, is difficult to access for the average snorkeler. These shallow waters are home to thousands of fish including zebra perch and anchovies. Spotted horn sharks both mate and birth along the underwater rock structures. Look into the cracks to find colorful octopus, anemones, and even nudibranchs.
#3 Turtle Town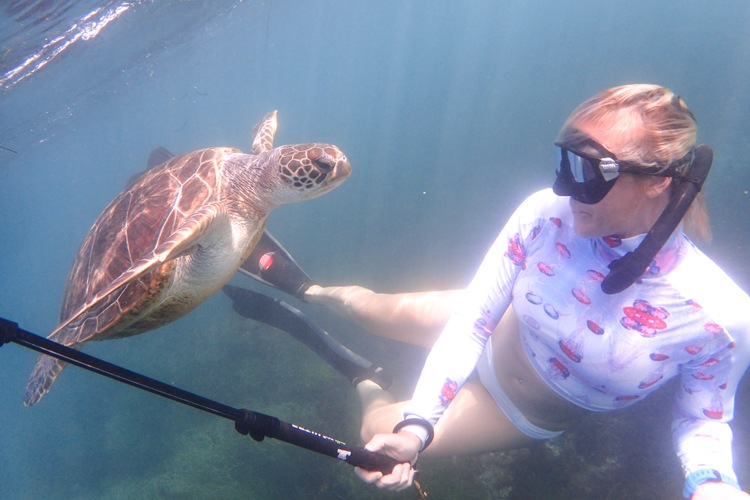 Turtle Town may be San Diego's best-kept secret. This area, located in the center of the marine sanctuary, is quite challenging to find and access. But if you love sea turtles this is your spot! At ocean depths of less than 10 meters, the turtles glide through the green and red kelp plants. La Jolla is home to full-grown adult turtles as well as juveniles. Most of the year this area is also a fantastic location to see sevengill and tope sharks.
#2 Seven Sea Caves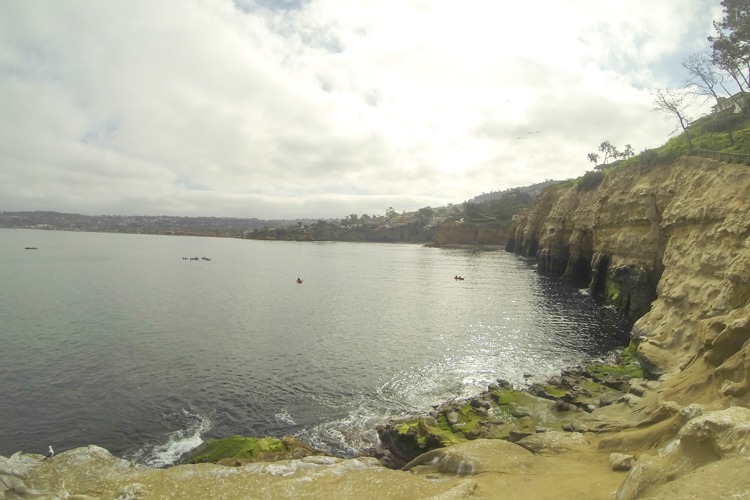 Enormous sea caves line the majestic sandstone cliffs due south of La Jolla Cove. Dotting the cliffs are hundreds of black cormorants, a fishing bird that can dive to over 40 meters. The shallow waters in front of the caves are a popular cleaning station site for local fish. It's easy to find dozens of orange señoritas busy grooming the local kelp bass and mackerel. Head north and the red kelp covered rocks will give way to a sandy ocean floor. These sand flats are a favorite spot for halibut and electric rays.
#1 La Jolla Cove