Yap Shark Snorkeling – Adrenaline Overload
The tiny Micronesian island of Yap offers a big time snorkeling with sharks adventure. Gray, whitetip, reef and blacktip sharks. This trip was one of our most epic shark experiences.
A secret island paradise in Yap
Part of the romance of this remote island is that few people know it. Only about one thousand scuba travelers visit Yap to dive each year. It's a real unspoiled paradise. Rich in history and ancient culture but still providing wireless at the infinity pool. We felt a nice mix of past and present. The island culture is intact. We learned a lot about locals by just taking a walk through a village. And, of course, seeing their giant stone money.
Our adventure started with our hosts, Manta Ray Bay Resort. They organized a magical dive trip to some Yap's underwater caverns. Situated in the southernmost part of the island where the Philippine Sea whisks off the tip of the reef. Here the sea mixes with the Pacific Ocean and is where you find the sharks! Grey reef, whitetip, blacktip along with big fish and critters crawling out of everything. Cleaning stations everywhere. Also, getting cleaned up are turtles, moray eels, and grouper. Sweet lips, soft coral, huge colorful anemones, and fish were everywhere.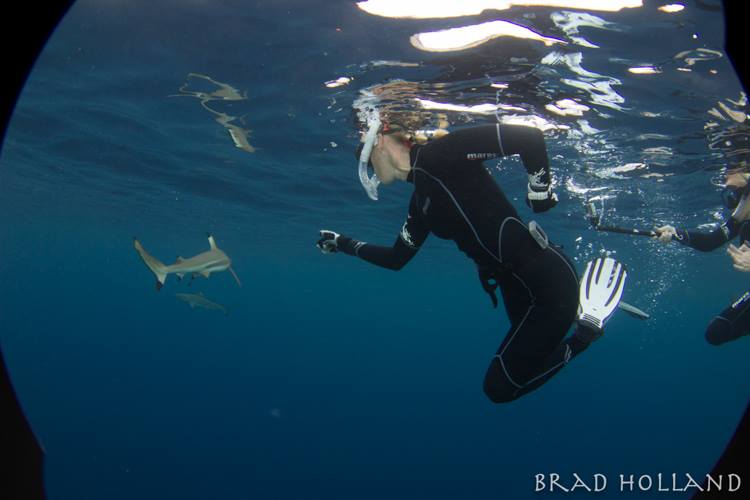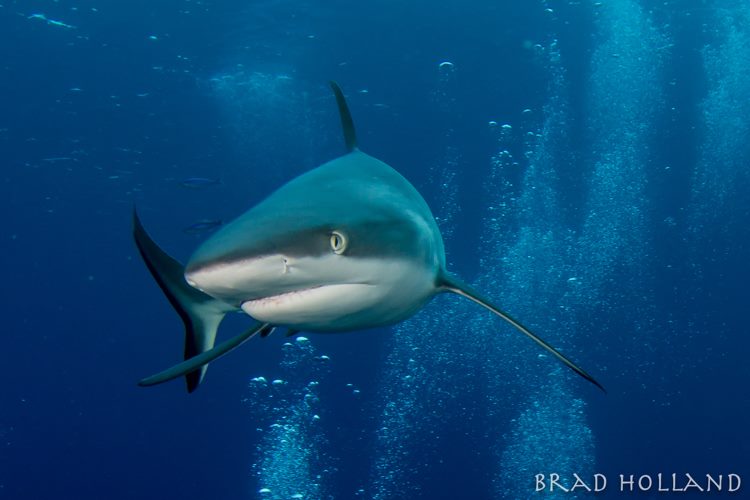 Photographing sharks at Vertigo
We learned the island motto: "Vertigo means sharks!" definitely delivered a ten for adrenaline at the legendary site Vertigo! They're everywhere. White tip over the reef, Blacktip out in the blue, Grey down the wall, on the surface. Everywhere we looked and they were big!
We spent an hour near the surface photographing over 30 grey and blacktips. Finally, we grabbed our scuba gear and took off a little deeper for the rest of the afternoon.
We took turns photo bombing with turtles, eels, huge schools of fish! Once we dialed in our Suunto D6i computers, we hit it as deep as we could and came up only when we had to. We recorded tons of life in our log books. During surface intervals, we napped, swam and hung out on our towels. The boat crew had packed us some tea and snacks for solid surface intervals.
Big thank you to Manta Ray Bay Resort and the Acker family for providing our Yap trip. This was one of our most memorable shark experiences. Special thanks to Suunto, Mares & Watershot for providing our gear. Photos taken by Brad Holland.