Diving with Olympus OM-D E-M5 Mark II Underwater Digital Camera
Walking up to the boat, we saw dozens of underwater digital cameras. Including the beautiful Olympus OM-D E-M5 Mark II. Red and black sitting together like Santa just made a visit on Christmas day. My heart jumped in excitement. Today we would be diving Key Largo in the famous Florida Keys. And, would have the opportunity to be testing out some cool photography equipment. But not just any gear. This digital camera and housing were from Olympus. A company with a fantastic reputation in and out of the scuba industry.
We set up our gear while checking out the underwater photo equipment, lights, and lenses. Our captain zipped us out to one of the favorite dive sites in Key Largo. We discussed the camera settings during the short boat ride. Also, the testing that we could run once under the surface.
As the boat slowed, I peered over the side in disbelief. You'll never guess who was staring back up at me! The sweetest sea turtle was looking at me as if to say "hurry up, get in, it's better down there."
Subscribe to our email newsletter and never miss one of our posts. We will also keep you updated on all our fun photos and videos! >>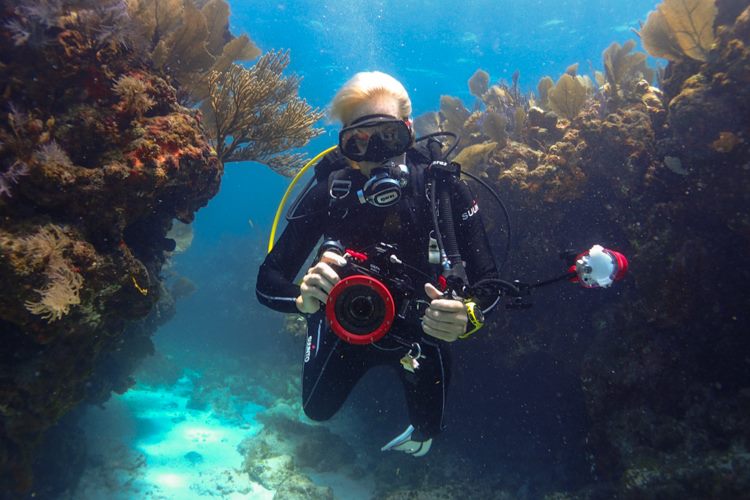 Lights, Camera, Action
We geared up and rolled in. The bottom was not far off, giving us great ambient light for picture taking. Our first Key Largo dive site the captain called fingers. Fingers delivered big with beautiful underwater structures. The site was just as described during his dive site in the briefing. We swam in and out of the finger-like structures having a blast. Testing our new gear was fun. We discovered a host of creatures and life awaiting us with each new approach. Our turtle friend cruised by again as if to say "finally you are here, play with me." Barracuda traveled around trying to look tough. Little gangs with their beady eyes and big teeth.
We took tons of photos. It was so much fun to have a digital camera that did not feel clunky and was easy to use. After we had surfaced, we reviewed our pictures to learn from our experience. The experts from Olympus gave us suggestions on how to improve. Then, we were off to our next dive site.
The next site was a shipwreck. Since it was a little later in the day, our sunlight was fading. We attached lights to our housings. Down we went to explore and use our new knowledge to take even better images this time. The site was beautiful with colorful coral beds. The wreck was a spectacular living reef. We wandered off and found an underground structure made of metal. Here huge schools of blue tangs and large barracudas ruled the roost. It was incredible.
After the dives, our captain cruised us back to the dock. We were so grateful for the opportunity to try the OM-D E-M5 Mark II. Super excited to check out our digital underwater photos. Once on shore, it was time to get ready for the next day of testing. Freediving with the Olympus Tough TG-4 cameras!
Big thanks to Olympus for providing our gear and sponsoring our trip.