Kelp Forest – La Jolla's Mystical Ocean Experience
Like yellow-brown patches of honey, this is the top of La Jolla's stunning kelp forest. I can see it floating on the wavy blue ocean. Growing from the bottom and spreading across the surface. Nowhere else to go once it reaches the oxygen. We pass a curious sea turtle between the patches. I find a spot where the trees cluster and rise to the surface. This area will be our freediving spot. We catch each other's eye and nod our heads. That is the signal; it's time!
See also our page: 'La Jolla Scuba Diving' >>
Terry and I have already made the plan for the La Jolla photo shoot. We would glide down along the long stalks with Terry photographing the beautiful sport. Spattered with bass, barracuda and some occasional quick tope sharks. This paradise makes for an amazing backdrop for photos. My Suunto D4i dive computer registered a toasty 78 degrees. The warm water makes my Mares rash guard comfortable. I can descend without weights. Down, down, down we go. Coasting along, in and out of the stalks of the forest. Peaking around every corner and hoping for a glance of something special.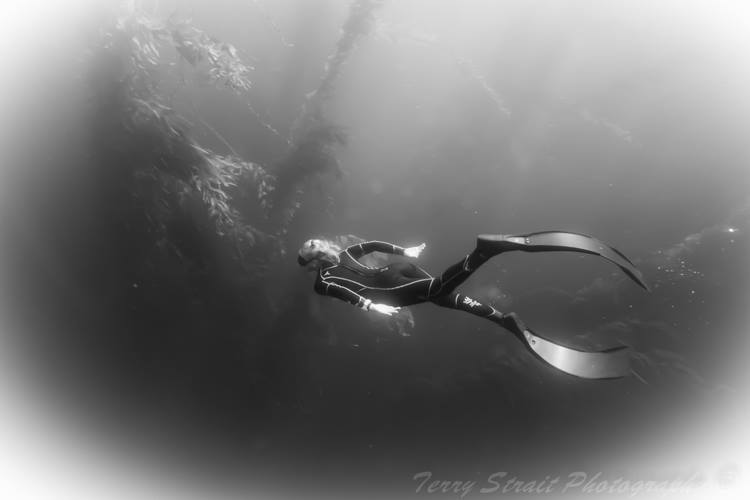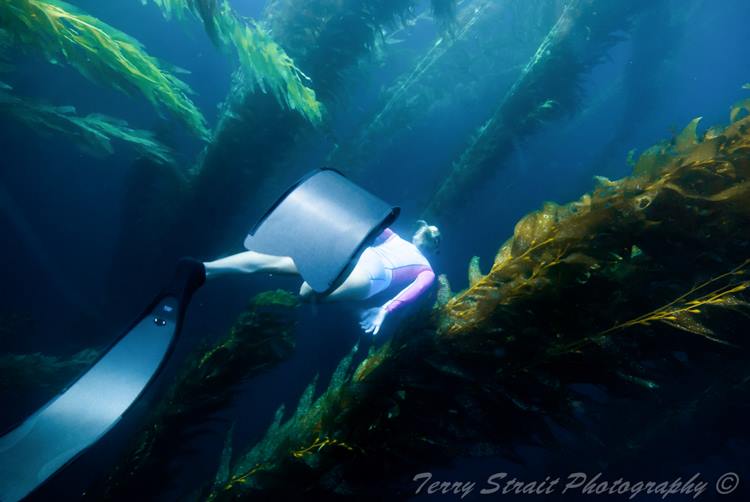 We Love the Giant Kelp
We planned our second kelp session. This time trying to get a shot in the deeper, thicker part of the forest. The cutest baby harbor seal joined my descent. His color was grey and black. The seal was so interested in the white rash guard and shorts I donned.
As I dive down, the seal played hard to get by descending deeper. Into the magical wonderland, we would go. I would hover under the water, and he would come up and look deep into my eyes. Then flip himself around as if to say, "come on let's play"! Of course, I don't have the lungs of a seal. If only I could stay longer in this lovely underwater neighborhood. With this cast of characters, I