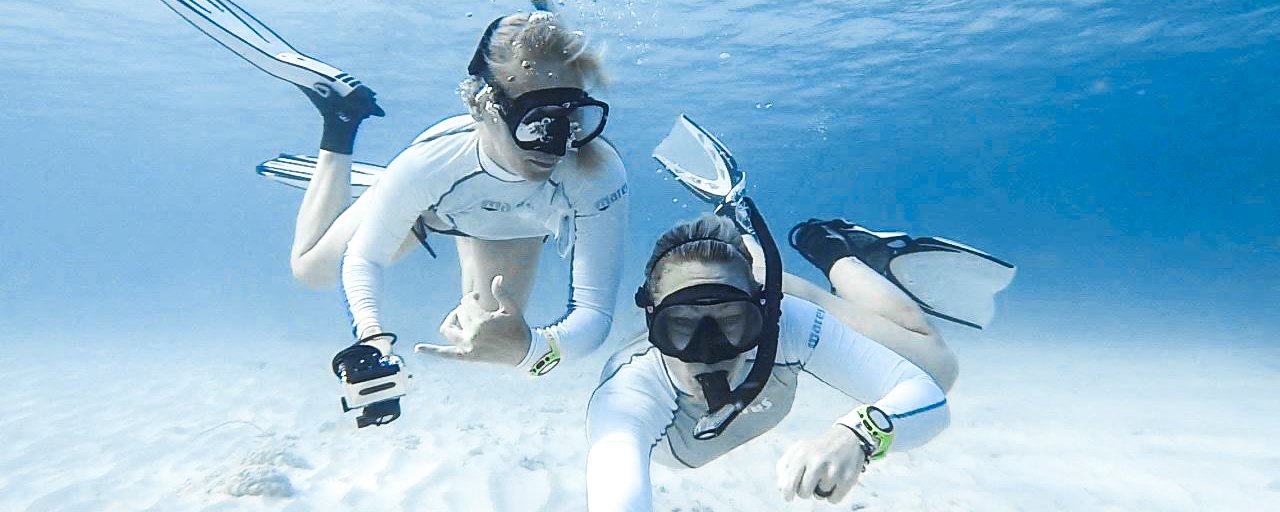 Snorkeling in La Jolla – Top 5 Sites
Snorkeling in La Jolla is one of the coolest things to do when visiting San Diego. All the top snorkeling sites are in the La Jolla Ecological Reserve. This vast marine area is a wildlife refuge with tons of sea life. Snorkelers in these calm, protected waters can swim with the cutest sea lions. Check out the sharks' area. How about exploring some of the stunning sea caves or diving into a school of beautiful fish. Below we list the best sites to snorkel in La Jolla and the critters to look for in each area. All these spots are close to San Diego.
#1 La Jolla Cove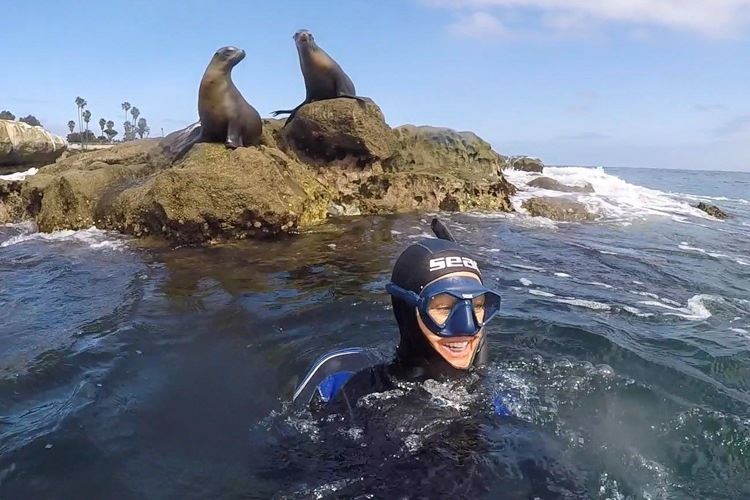 Book A Snorkeling Tour
The best snorkeling in La Jolla is in La Jolla Cove. This site sits below the towering cliffs on the western end of San Diego's huge protected marine area. Home to San Diego's largest sea lions colony and this is the spot to jump in for a snorkel. Hundreds of colorful fish including zebra perch and kelp bass swim in these calm waters. Watch for surprise visits from pods of whales and dolphins during seasonal migrations.
#2 Turtle Town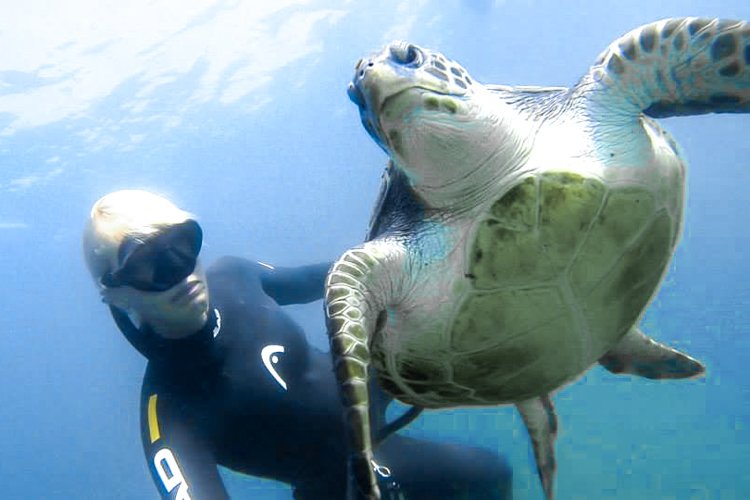 Located in the center of the ocean sanctuary Turtle Town has always been a big secret site with locals. But for every turtle lover, this is a must visit spot. Beyond the east edge of the kelp forest, the green turtles glide over seagrass covered rocks. These cuties spend most of the day in less than 10 meters of water munching on the underwater plant life. It is also common to find schools of señoritas and other colorful cleaning fish in this area.
#3 Marine Room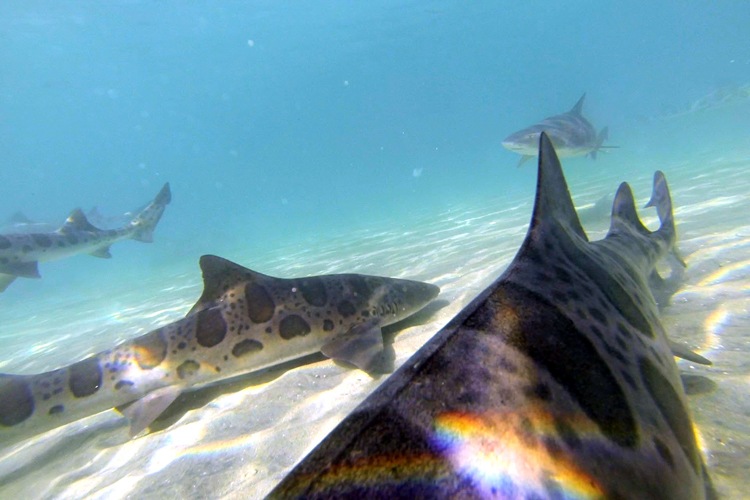 On the east end of the protected reserve, the Marine Room is the number one spot for leopard sharks in La Jolla. Hundreds of sharks school along the sandy flats near this isolated beach at depths of less than 5 meters. Here is an excellent place to spot shovelnose guitarfish, bat rays and halibut hiding in the sand. Look for thornback rays and turbot swimming outside the surf break. Stingrays also love these shallow waters so watch your step.
#4 The Seven Sea Caves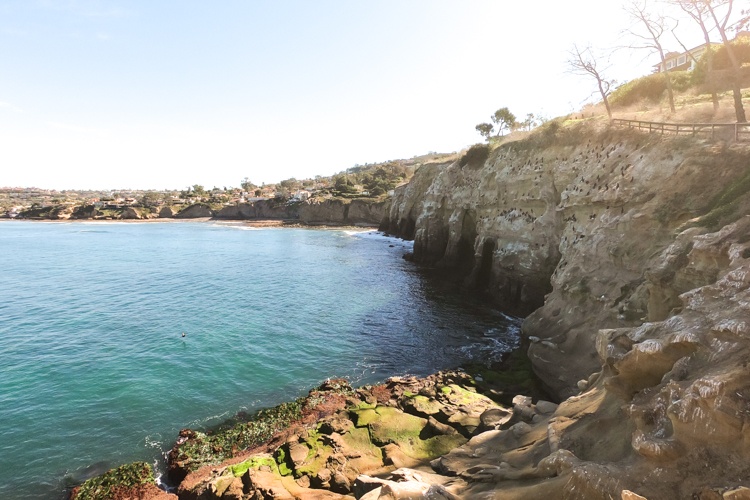 Seven giant sea caves dominate the steep sandstone cliffs south of La Jolla Cove. Hundreds of California brown pelicans, cormorants and other aquatic birds nest here. The shallow reefs in front of the caves are an excellent place to find California spiny lobster. Careful, moray eels and the venomous scorpionfish also hide along these submerged rocks. As you snorkel north into deep water watch for large schools of mackerel and sardines.
#5 La Jolla Shores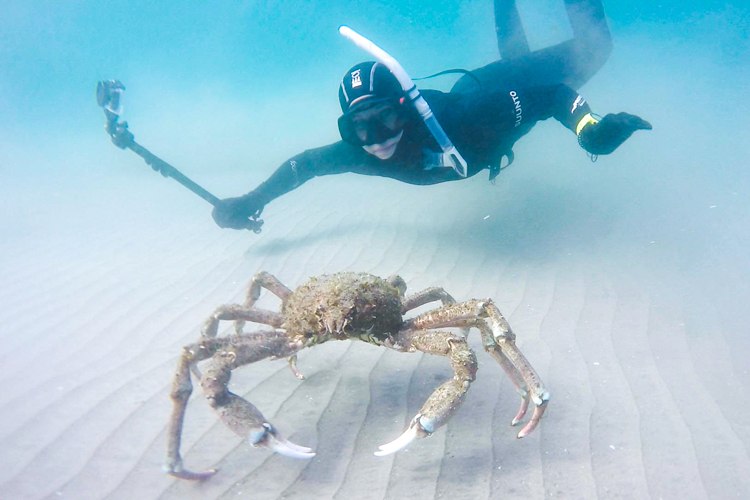 La Jolla Shores beach is south of Scripps Pier on the east shore of the marine reserve. Most of the great snorkeling is off the beach at ocean depths between 5 meters and 10 meters. Electric rays and long nose skates love hiding in the sand beyond the shallow wave break. Further west decorator crabs and sheep crabs patrol the vast sand dollar beds. Watch for swell sharks and angelsharks along the edge of the nearby submarine canyon.
See our page Snorkeling in La Jolla – 7 Quick Tips, for more information.