Maldives Snorkeling – Baby Sharks Adventure
Sea turtles, colorful fish, eagle rays and baby sharks were just a few of our buddies that morning. It was 6 am; we woke early to check out some Maldives snorkeling sites. Our over water bungalow had a staircase that dropped right into the shallow waters. Stumbling from our beds, we slip into our bikinis, grab our gear and are in the water within minutes.
The Maldives resort's lovely house reef
The Resort house reef housed tons of little fish, eels, anemone. Beautiful coral formations. The water was clear and the colors popped. Sunbeams broke the surface and danced off the living world beneath the tropical waters.
After a few minutes, we reach the drop-off. A sheer wall of coral that drops straight into the Maldives abyss. To explore the deeper walls we change to freediving. After switching our Suunto D6i computers to 'Freedive Mode' and one at a time, we dive! Eagle rays flew by, teasing and taunting. It seemed they knew we wanted to swim with them but were way too slow. The sweetest sea turtles swim along the wall of coral. They kept us in their sites wondering who was joining their morning swim. From the darkness sharks appear, only to disappear just moments later.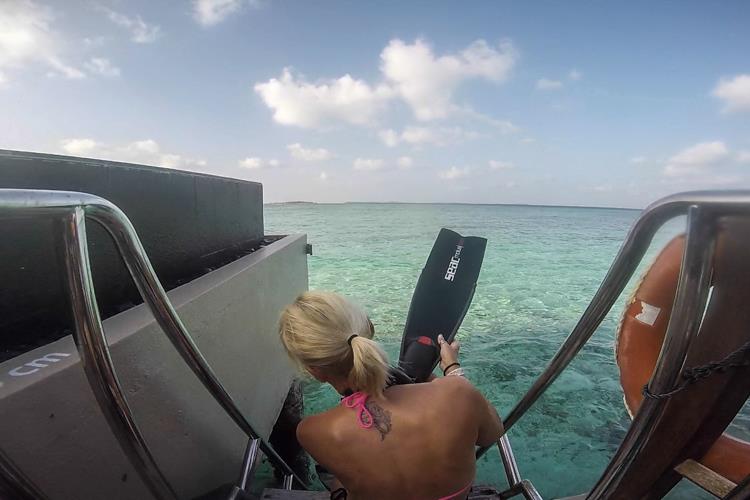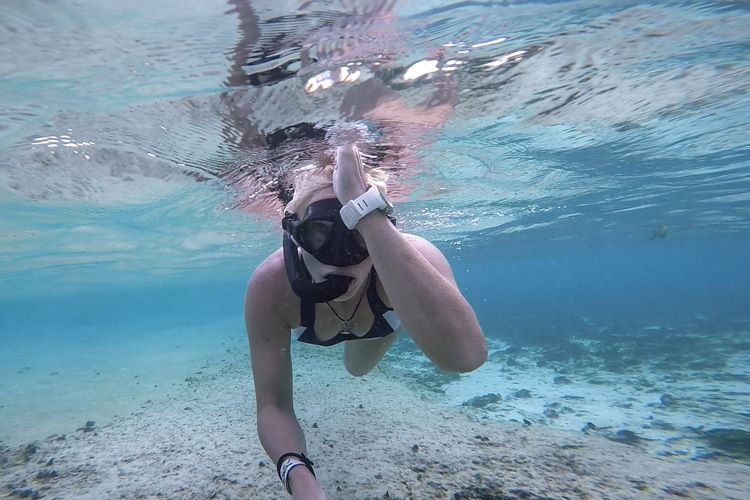 Snorkeling in the lagoon
After finishing our time freediving, we headed back to the resorts shallow lagoon area. Once back in the lagoon there, we found ourselves snorkeling over the whitest sand in only 4 feet of water. The tropical sun reflects off the white sand. So bright we had to squint so it would not burn our eyes. Peering out are schools of large barracuda with toothy grins. Watching us pass as they guard their territory.
Baby sharks nursery
While exploring critters in the shallows, Stephanie noticed a couple of sharks arriving, babies! They're so curious about our presence. There was a particular interest in our cameras. They dodged in and around like little toddlers trying to play. The longer we both stayed, the more of these little ones arrive. I noticed their moms cruising along the outskirts keeping an eye on the little ones. She would watch but never intervene with their fun.
Looking at each other in disbelief, are we the playmates in their nursery? It was an unbelievable encounter that we never wanted to end. There is nothing cuter than a tiny blacktip.
We glanced at our Suunto computers. Realizing it was time to head back and get ready for another scuba diving day with the Suunto Dive Team. Looking back at our playground, not wanting it to be over. But as we head back to our bungalow, we looked at each other knowing. Returning the next morning for a repeat of our shark's adventure is a guarantee!
Huge thank you to Suunto for inviting us along on this incredible Maldives photo trip. The cute babies proved a tremendous surprise; a was a once in a lifetime experience.