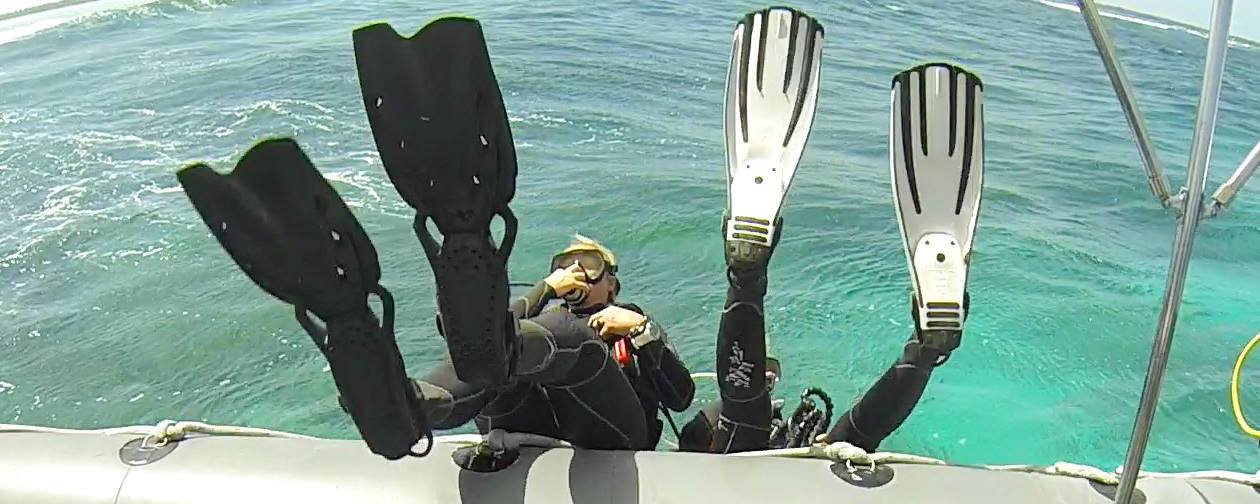 PADI Women's Dive Day: We should learn how to scuba dive!
Holding my hand up above my head pushing the button on my low-pressure inflator hose, I began to drop beneath the surface. As my eyes slowly submerged and I lost sight of the horizon and gained a view of the amazing underwater utopia beneath the water level, I began to feel a lightness that I only felt while scuba diving. Looking down, I could see what seemed like billions of bubbles all flowing toward me from other divers descending into the abyss. I looked into one of the large bubbles, and I saw another face next to mine. It was my dive buddy, my female adventure partner, Stephanie. I turned to acknowledge her presence and saw her smiling eyes peering back at me. We locked in and sank into the ocean together. As we neared the bottom and started kicking along near the ocean floor, the overwhelming feeling of feminine power and solidarity washed over me. I felt the ocean surround my body like a big hug from Mother Nature as I watched the sunlight bounce off the brightly colored coral reef below. Suspended mid-water column, two hammerhead sharks came onto the scene. Stephanie and I grabbed hands to experience this moment… it was truly heaven.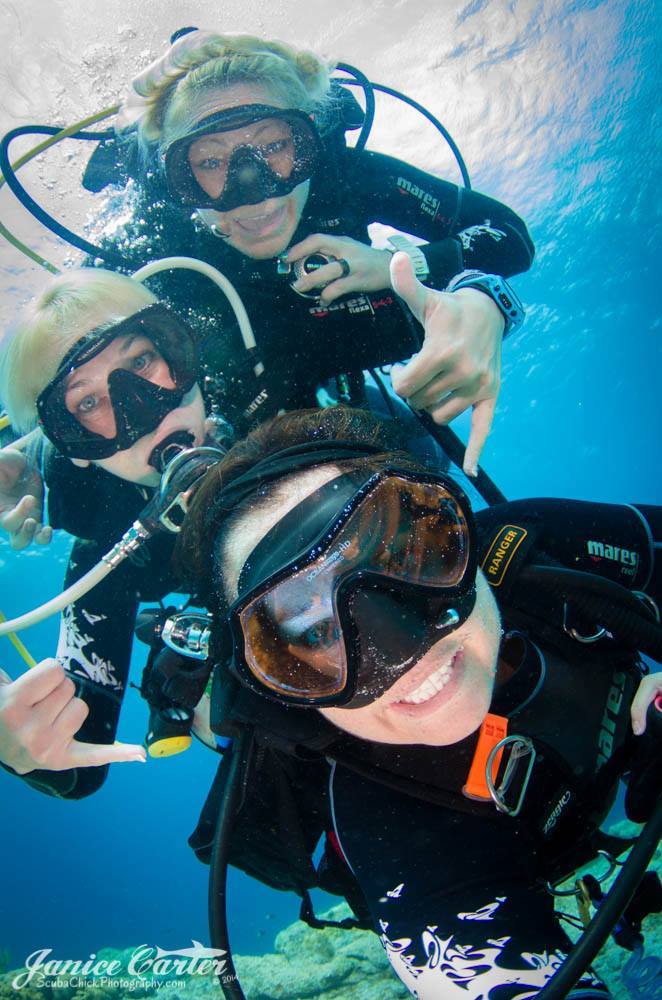 The day my sister asked me to learn how to dive, I reacted with a sneer and then laughter. I told her that hanging a lot of heavy gear on myself to go into the ocean did not seem very fun. She begged me to try it, and I agreed, but only because our sister in law Stephanie had agreed to train us. Stephanie, a PADI instructor, had been diving for years and convinced me that it would be the most fantastic experience of my life. When we arrived the first day at the pool, I looked around, and the whole class was men, except for us. I gave my sister a sly glance as if to say, I told you so. But she just beamed with excitement, so I decided it was worth giving it a try. Throughout the class, the girls had the most fun, giggling and enjoying every moment as we bonded together while learning how to safely use the equipment and protect each other under the water.
Once I had my open water certification, there was no stopping me. I continued with my training and finally achieved my PADI Divemaster certification. My passion for the sport grew with each dive. Stephanie and I continued diving together and engaging as many of our female friends as possible to experience the underwater wonderland with us. It was so entertaining diving with our girlfriends that we started to shoot videos to capture the experience. It was like girl's night out under water. The women we dove with and shared stories with about diving were beautiful, fierce, amazing women that I found so much strength with both in and out of the water. My group of friends grew large as we connected through our passion, scuba diving.
At that time, we were all aware that the sport was very male-centric. Stephanie even quoted to me one day that only 35% of certifications were women divers. We wanted to share our fantastic experience with others so that they could understand that the ocean and scuba diving is something women can do. We decided to start a social media network of female divers called Scuba Diver Girls. We spent much of our free time with our girlfriends and our sea friends in the water and then posting our shenanigans on Facebook, Instagram, and Youtube. We girls had so much fun diving with each other! We worked on encouraging girls and women of all ages to get out and dive. Recently PADI reported a reduction in the gender gap for certifications. Stephanie and I feel proud to have played even a small role in getting women into a tank, fins, and mask. Now PADI (Professional Association of Diving Instructors) is the world's largest and leading diver training organization with more than 6,500 dive centers and resorts and 135,000 passionate PADI Professionals worldwide. And we are a part of that!!
Standing on the shore ready to do a giant stride into the water one day, I looked over at Stephanie with my regulator in hand and said, "Dive Like a Girl!" Then we both took our stride off the dock together side by side knowing that those words meant so much. It says that we need to be ourselves in everything we do from scuba diving to being professionals to being moms, sisters, and friends. It means that we need to have fun and be passionate about what we do and enjoy every moment. It says that being a woman scuba diver is an extraordinary privilege and we are lucky each and every time we jump in!
We are calling out to our female dive buddies out there to invite you to join us for PADI Women's Dive Day 2018 on Saturday, July 21, to celebrate female divers of all ages and experience across the world. There are events all around the world where each of us can explore the underwater world safely and confidently to inspire more women to try scuba diving so that they can understand how it can transform their lives. Come on ladies, jump in and DIVE LIKE A GIRL!!!
To find PADI Women's Dive Day event near you, visit: https://www.padi.com/women
Photo: Janice Carter
This blog article is a paid endorsement.