Sevengill Shark Diving in La Jolla, California!
Every spring broadnose sevengill sharks migrate to the kelp beds off San Diego, California. Next, divers arrive with high hopes of photographing this elusive apex predator. Over the past ten years, the protected marine area off La Jolla has been the hot spot for diving with these sharks. During the spring months, we offer scuba diving, snorkeling and freediving tours with the sevengill sharks.
3 Best Spots for Sevengill Sharks in La Jolla
The San Diego coastline along Bird Rock and La Jolla are the common waters to find Sevengill sharks. The aggregation in these locations is most likely due to the areas thick, lush kelp forests. As a result, our top three sevengill shark dives are all in and around the same area. La Jolla's protected marine sanctuary.
#3 Northern Kelp Forest
The northern kelp forests are a nice spot to find sevengill sharks. But keep in mind, these kelp beds are quite challenging to reach for the average diver. To descend on this area participants must surface snorkel 15 to 20 minutes from shore. Average depths in this area are typically less than 60 feet. To explore this kelp forest be sure you are in above average physical condition. In addition to the sevengills, you can often find baby seals playing in this area of the giant kelp.
#2 Rock Pile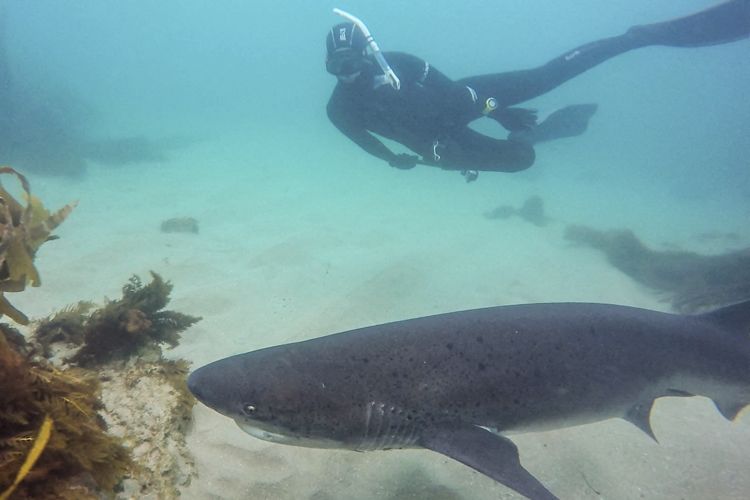 There are days rock pile is on fire with sevengills. This area is also a fair distance from shore. Expect 10 to 15 minutes surface snorkeling for the average diver to get anywhere near the rock pile. Average depths in this area are usually less than 45 feet. Once below the oceans' surface, your sevengill experience can be epic. Some days sharks sightings are range from the front of rock pile all the way to the back side of the rocks. Also, look for schooling tope sharks along these rock piles.
#1 Turtle Town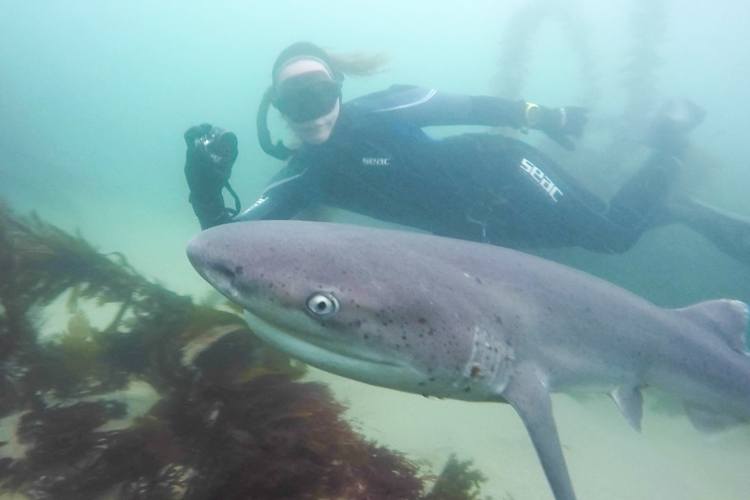 Turtle Town is the prime spot for sharks in La Jolla! Sevengill, leopard, tope and even horn sharks. Much too far from shore and too large an area for the average scuba diver to access. This area is best explored by snorkeling and freediving. With average depths of 15 to 30 feet, divers can breath-hold dive much of this location in the reserve. In addition to our resident sea turtles, keep an eye out for moray eels and octopus in the more shallow areas.
When Is The Best Season To Dive With Sevengill Sharks?
Sevengills swim near the San Diego coast throughout the year. But most often we encounter these guys during the spring months of April, May, and June. After June these sharks are almost never seen in the deeper kelp forests. Most summer encounters are in the shallow waters Turtle Town.
Some Quick Sevengill Facts?
Sevengills spend most of their lives at depths of a few hundred feet. But each spring a good number of these sharks come up to the shallow waters of La Jolla to give birth and mate. Known for their seven gills, the males can reach over 9 feet. Sevengills usually swim slow and near the ocean floor, unless startled or hunting.
What's Needed To Join A Sharks Tour?
We offer scuba diving tours as well as a snorkeling and freediving tour. Required to take part in our scuba trips is at least an Open Water certification. Our shark dives are all quite strenuous. Scuba tour participants should be in good physical condition.
Those participating in the snorkeling and freediving tours should be in excellent physical condition. During this trip, we try to cover a significant section of the protected marine park in search of sharks. Excellent water skills will help participants get the most from this tour.