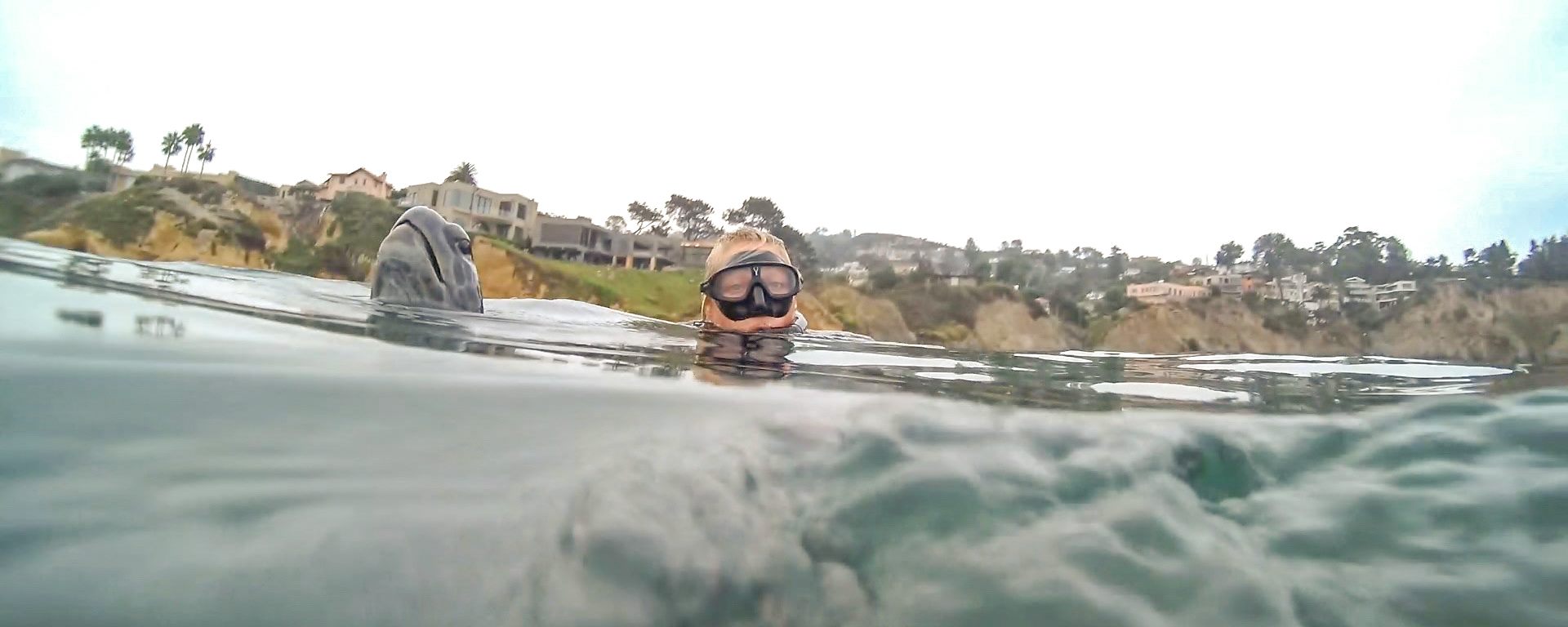 Snorkeling in La Jolla – 7 Insider Tips
La Jolla snorkeling can be an excellent experience if you have a few insider tips. For instance, where to find the top spots or why booking a snorkel tour is key for most people. Are wetsuits necessary or life jackets even allowed? What time of day is best and how to check ocean conditions. And where to find parking along La Jolla's coastline. We provide answers to these questions and more below.
#1 Where Are The Best Snorkeling Spots?
All the top snorkeling sites in San Diego are in the La Jolla protected marine sanctuary. Check out La Jolla Cove for tons of life including colorful fish and lots of sea lions. Explore along the massive cliffs and through the ancient sea caves. Jump in with leopard sharks near the Marine Room or tope sharks near turtle town. Everyone enjoys the cute harbor seals along Boomers. Keep an eye out for lobster, crabs and a variety of abalone below Devil's Slide. Or to find stingrays, angelsharks, and halibut near the sandy flats of La Jolla Shores.
#2 Should I Book A Snorkeling Tour?
Book A Snorkeling Tour
Joining a tour is usually a great way to experience the beauty of La Jolla snorkeling. To join one of our groups, book your tour online, and we take care of everything else. Show up at the designated time and place. We will provide the use of all needed gear, even wetsuits. Once everyone gets into their gear, our guide gives a quick onshore lesson and then we all head into the ocean. All groups are lead by one of our knowledgable guides. We aim to put you right in the middle of the most stunning scenery and beautiful sea life. Check out our famous La Jolla Cove & Sea Lions tour.
#3 What Time of Day Is Good For Snorkeling?
During most of the year, La Jolla's prime snorkeling hours are between 10 a.m. and 2 p.m. each day. Although the ocean can get fussy overnight, the surf often begins to calm down as the sun gets higher in the sky. Fish are easier to see, and underwater colors are more vibrant with the added light from the midday sun. Smooth surface conditions can turn choppy as the winds begin to pick up in the later afternoon. You can extend this prime time window to between 9 a.m. and 3 p.m. with the longer daylight hours during the summer months.
#4 Should I Wear A Wetsuit?
Trust us, if you plan on snorkeling, grab a wetsuit before you head over to La Jolla. Neoprene can help maintain your body's warmth as well as provide a bit of extra buoyancy. During the cold winter months, we would suggest wearing a 7mm wetsuit. But as the water begins to warm up in the late spring, 3mm neoprene suits are usually preferred.
#5 Are Life Jackets Available?
The La Jolla Cove is the only San Diego beach area that does not allow the use of floatation devices. The City of San Diego has designated the Cove as a swim, snorkel and dive area. The use of life jackets, boogie boards or any other type of floatation device is not allowed. If you are going to jump into the water at the Cove, you should have good swimming skills.
#6 Is Parking A Problem?
La Jolla has terrible parking, plan ahead. All street parking along the La Jolla coast is free but often very difficult to find. The easiest time to find a spot is in the morning, but unless you arrive by 6 a.m., you will most likely have to drive around. By midday, it can often take over an hour to find an available space on the street. If you are planning to snorkel at the La Jolla Cove, the easiest solution is to put your vehicle in one of the areas many pay lots.
#7 How Can I Check La Jolla Ocean Conditions?
Before heading over to La Jolla for any snorkeling it's always a good idea to view the local surf report. A common rule of thumb is that smaller waves often result in better visibility. Larger waves can stir up the ocean floor leaving sediment in the water making it harder to see fish. High surf can also create dangerous conditions along the San Diego coast.
Another fantastic resource is the City of San Diego Beach and Weather Report. Updated daily, this automated message is available by calling +1-619-221-8824. Available information includes visibility, barometric pressure, air and water temperature and wind conditions. Surf condition at local beaches, swell direction and intervals. Also, La Jolla snorkeling visibility and local tide information.