La Jolla Scuba Diving
The scuba diving in La Jolla is always an amazing adventure! This area of San Diego has multiple scuba spots available right from the shoreline. The beautiful La Jolla Cove, with scuba diving both along the sea cliffs as well as in the giant kelp forests. A shallow, sea-grass covered reef of the Marine Room dive site. The deep submarine canyon at La Jolla Shores. These nutrient-rich waters of La Jolla support a variety of life, including sharks, seals, and dolphins.
Dive Tours
La Jolla Cove
Sea Lions, Caves, Kelp
Price Includes Use of Gear
La Jolla Cove,  Scuba with Sea Lions and Sharks in the Kelp Forests
Our favorite dive site in San Diego is the La Jolla Cove. Here, below the sea cliffs, is the spot to scuba dive with the energetic California sea lions. The underwater walls off Boomers are a playground for cute harbor seals. And finally, La Jolla's giant kelp forests are a great place to dive with sharks. The kelp also provides a stunning backdrop for scuba photos.
Our guide to scuba in La Jolla:
Top 3 Scuba Dive Areas at La Jolla Cove.
There are three distinct scuba dives at La Jolla Cove, all very different and all fantastic! Each morning we explore two of these three dives.
#1 The Giant Kelp Forest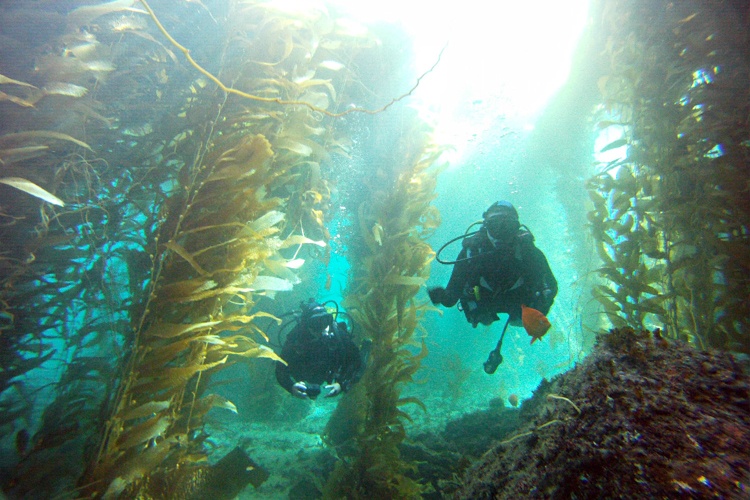 Diving our giant kelp forest at La Jolla Cove is the most famous of all California's kelp dives. These scuba excursions are stunning. The kelp forests stretch from the sea floor right up to the ocean's surface. Diving in the kelp feels like flying through a magical forest surrounded by sea life. Fish like sargo and opaleye tend to school in large numbers in this area and are fun to photograph. Also, if you are going to see tope sharks, sevengill sharks or other large apex predators, it will most likely be in these kelp forests.
#2 The San Diego Cliffs & Sea Caves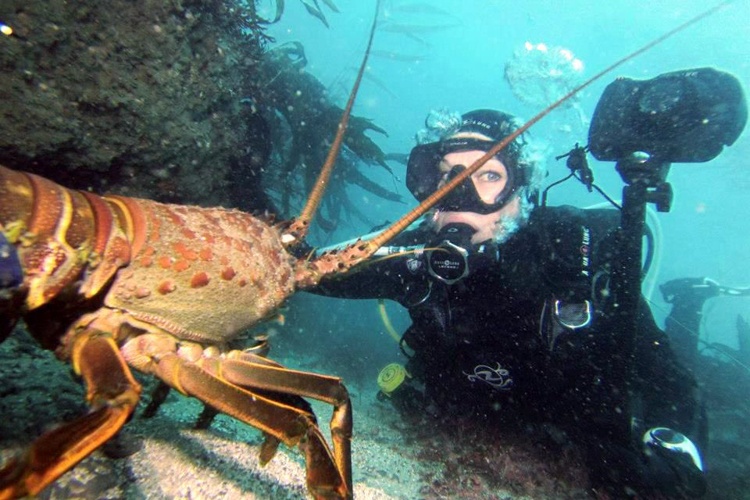 Diving along the base of San Diego's dramatic sea cliffs is a pretty shallow area with tons of life. Most of the local seals and sea lions live along these cliffs and are often in the ocean swimming along with us. This area is your best chance to dive with sea lions in San Diego. In front of the caves, you should easily find lobster under most rocks. If you're scuba diving in the spring season look for the super cute horn sharks around the first cave, The Clam. We highly suggest bringing your camera!
#3 Boomers & The Underwater Walls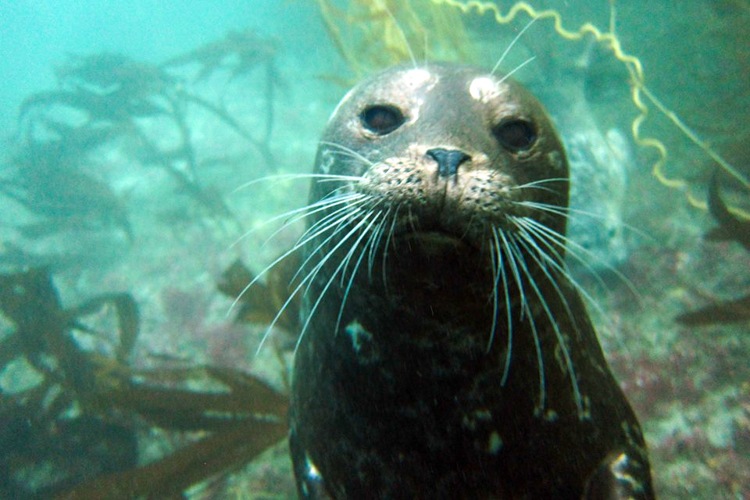 We love this dive! Exploring along large underwater rocky structures which form long passageways next to jagged walls. This scuba dive navigates to just outside of La Jolla's protected marine sanctuary. Boomers is a favorite playground for baby seals, and they often join us underwater. One of the prettiest sections kelp forest during later summer and autumn. These channels are teaming with marine life and offer many great photo opportunities. Due to periodic larger surf off the San Diego coast, exploring this area is not always possible.
It is especially relevant that many factors make diving any site at La Jolla Cove quite strenuous. There are a large number of stairs divers must navigate in full scuba gear. Possible longer surface swims to get to the common areas to descend. As well as many typical cold water ocean conditions. So be sure you are in good physical condition before attempting any shore dives at this site.
What is the diving like at the Cove?
Known as one of the most picturesque locations in Southern California. La Jolla is beautiful both above and below the ocean. Visiting and local divers can enjoy year-round scuba excursions in San Diego. Below are a few tips to keep in mind when planning to dive at La Jolla Cove.
What To See Diving At The Cove, Local Critters.
Divers can see a variety of aquatic life. This includes seals, beautiful of fish, even small pods of dolphins. Also, California spiny lobster and moray eels. Annual migrations bring whales, various sharks, as well as green sea turtles to La Jolla. Of course, most of our scuba trips include sea lion sightings!
Shore Entry, Yes Scuba Divers Walk-In!
The Cove is a small beach entrance at the base of the La Jolla sea cliffs. If you think the views from cliff tops are amazing, you're going to love our underwater ecosystem. Divers gear up on the grass at the top of the cliffs and then descend about 60 stairs to the beach entry area.
Water Temperatures, Is It Cold Off San Diego?
Summer surface ocean temperatures off San Diego can average 68°F/20°C. Whereas the water's average surface temperature can drop to 58°F/14°C in winter months. Throughout the year divers can expect water temperatures at depth to be a bit cooler than on the surface.
How's Visibility in La Jolla?
On a great day, the underwater visibility at La Jolla can be up to 40 feet. Average visibility is about 15 to 20 feet throughout the year. Finally, it is typical that the calmer the ocean, the better the visibility on most days. A great place to check the projected ocean surf forecast is SwellWatch.
Seasonal Scuba Dive Conditions.
Summer most often means calmer oceans and little rain. Average summer air temperatures along the San Diego coast are a mild 75°F/24°C. Local air temperatures cool down in the winters months, averaging 65°F/18°C. The winter months do bring rainstorms and rough oceans during the storms. It is noteworthy that there are still many beautiful dive days during these months.
La Jolla Dive Details
Below we have included the essential details of our morning group 2-tank dives. With scuba certification, this experience is available year-round. Be sure to call us in advance for reservations.
Locating La Jolla Cove Dive Site
Located about 15 miles north of downtown San Diego, the La Jolla Cove is situated at the North end of Ellen Browning Scripps Park. The dive site is just beyond the cute little La Jolla village district. Most scuba participants arrive at La Jolla by car. But the San Diego bus system also has a stop within an easy walking distance from the dive site.
Where to Park
Park at the bottom of the hill along the 1100 block of Coast Boulevard. Keep in mind that street parking in this area can be difficult to find, especially in the summer months. Many of the street parking spots have a 2 or 3-hour limit, so look for the signs. If you arrive early in the day you might get lucky with one of the all-day parking spots. These spots are all on the non-ocean side of Coast Boulevard.
If you have trouble finding street parking dive back up to the La Jolla village. Once in the village locate one of the pay parking lots on Fay Avenue.
Once you have parked walk to the bottom of the hill at the base of Coast Boulevard. Your group and guide will be meeting in the park on the small grass area near the lifeguard tower and flagpole.
Where to Meet
Once you have parked walk to the bottom of the hill at the base of Coast Boulevard. Your group and guide will be meeting in the park on the small grass area near the lifeguard tower and flagpole.
Dive Timeline
Our morning 2-tank dive groups usually meet by 8 a.m. at La Jolla Cove. All trips are in a group unless otherwise specified. All required rental scuba gear is included in our price. Gear is organized and brought to the Cove site by our Divemaster. Gear includes wetsuit, hood, gloves, boots, mask, snorkel, fins, regulator/octo/gauges, bcd, tanks, and weights.
Guides start out by giving a site and safety briefing to the group. After the briefing, everyone dons their scuba gear for the first dive. Between dives, groups do take an extended surface interval on shore. We finish up by about 12:30 p.m.
Scuba Requirements
Minimum Qualifying Certification is Open Water Diver.
Certification card plus a federal or state photo ID required at morning check-in.
Advanced reservations required for all tours.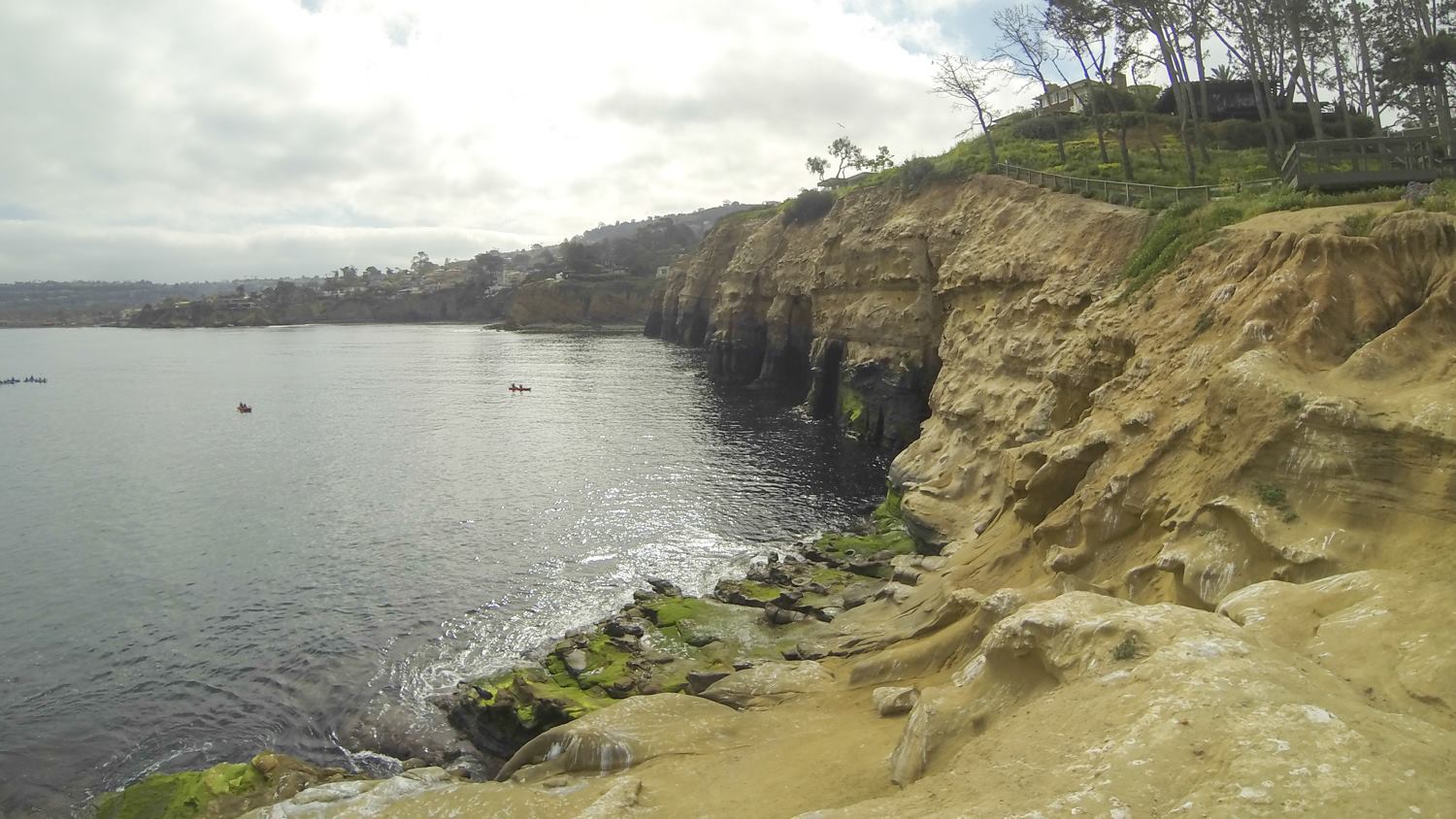 Alternative Dive Sites in La Jolla
If ocean conditions prevent us from exploring La Jolla Cove, we can usually switch to La Jolla Shores or the Marine Room. Either location is a great alternative site for our morning dives.
Marine Room
The shore diving at the Marine Room is quite shallow in most areas. Scuba Divers can explore across the sandy flats with an eye out for sting-rays and leopard sharks. Further along is the rocky reef and its inhabitants including lobster, moray eels, and lots of tiny octopus. This area is often used to gain access to the shallow end of the south canyon wall.
La Jolla Shores
The Shores scuba site is the most popular area for diving in San Diego. We enter from a wide expanse of beach on the eastern end of the ecological reserve. The topography is a flat sandy bottom that gradually descends to a canyon drop-off. The flat sand shallows are great for new and inexperienced to practice their skills. A canyon wall is a great place for exploring.
All scuba at La Jolla Shores is wall diving along the submarine canyon. The North wall is a favorite area to explore due to the variety of life in the various cracks and fissures. The South wall is often explored. Stunning rock formations and beautiful views of the deep ocean.