La Jolla Sharks Snorkeling Tours
Video & Photo Opportunities
Protected Marine Sanctuary
EVENT SUMMARY:
Thrill seekers love snorkeling with sharks in La Jolla's protected marine sanctuary! Are you visiting San Diego? Our exciting La Jolla sharks snorkeling adventure is an experience you won't forget!
Common Shark Sightings by Season
Summer: Sevengill, Leopard, Horn, Tope
Autumn: Leopard, Horn, Tope
Winter: Leopard, Horn
Possible rare appearances from blue, smooth-hound, angel & even thresher sharks. Other ocean life in the areas we explore includes rays, schools of fish, turtles, lobster, and crabs. Curious seals and sea lions love to play in these waters. Depending on the time of year dolphins, whales and even sunfish can make an appearance. We find sharks on about 90% of the snorkeling excursions; there are no guarantees.
Private Sharks Tours
Additional participants, $100/person.
Private
Ages 8 + (with parent)
Price includes use of gear.
WHY CHOOSE THIS EVENT:
Explore along the towering sandstone cliffs and huge ancient caves.
Swim along beautiful fish or possibly a baby seal.
Visit San Diego's beautiful Matlahuayl State Marine Reserve.
Get up close to a variety of shark species.
Photograph local sea lions or maybe even a green turtle.
Keep an eye out for suprise visits from dolphins or even a gray whale.
All private adventures are lead by one of our expert guides.
SNORKELING DETAILS:
Private Excursion (for up to 4 people): $750
– add up to 4 additional people for $100/person.
Advance reservations required.
Good Swimming Skills: Floats & life jackets are not provided.
Weight: 80 lbs & up.
Ages: 8 & up (with parent).
Children: Ages 8 to 17 may participate only if their parent is also snorkeling.
Use of mask, snorkel, fins & wetsuit.
Wetsuits: Wearing a wetsuit is required. (available 80 lbs to 300 lbs)
2.5 hours includes:
30 minutes: donning gear, instruction & ocean entry.
120 minutes: in the ocean.
Tours are physically demanding & not for individuals with poor health or a weaker physical condition.
Snorkel With Leopard Sharks In The La Jolla Reserve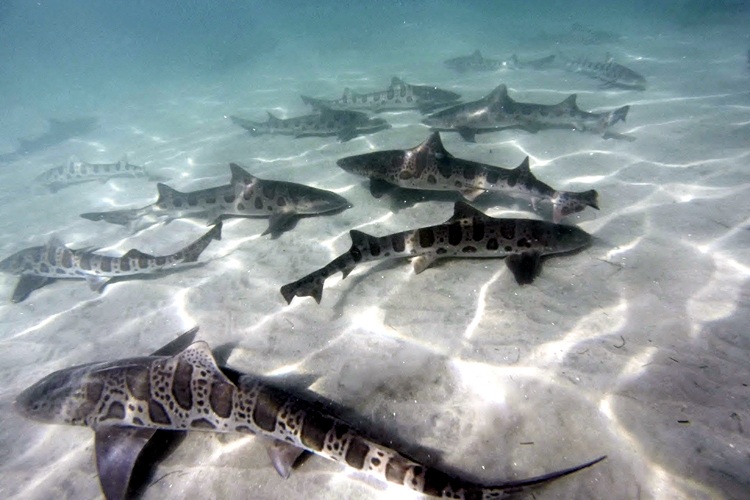 In the summertime, the leopard sharks population of La Jolla explodes. Thousands of these leopard print beauties arrive, many ready to have babies. The epicenter of this incredible migration is along the eastern edge of La Jolla's marine park. Here these docile creatures will spend a few months in the areas shallow coastal waters. The best way to get up close to these guys is to join a snorkeling tour and jump in!
Close Encounters With Horn & Sevengill Sharks!
Each year the broadnose sevengill sharks arrive show up along the San Diego coast. These prehistoric looking species spend most of their lives at depths of a few hundred feet. But in the spring these large apex predators come up from the depths. Arriving in groups to give birth and mate in the shallow waters of La Jolla. In recent years the protected reserve is the center of the action.
Often as early as January the smallest and cutest of our annual visitors arrive in La Jolla. Large numbers of horn sharks come pregnant and ready to give birth along the rocky reef near the sea cliffs. We can usually find these little ones in the underwater park throughout the year.
Topes In The Giant Kelp Forest!
Late spring or early summer off the coast of San Diego, there is a little-known migration. An unusual species that La Jolla locals call the tope. Topes, also known as soupfin, are sleek gray schooling sharks often reaching up to 5 feet in length. If you're an underwater photographer, you better take a quick shot because these guys are fast and shy.
Although scuba diving is super fun, snorkeling is the best way to experience all the sharks in La Jolla.